The Locally Made Box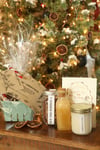 I am incredibly proud to be from a small town and living in a small town. As a child I dreamt of one day getting to be a part in the community and today I take it as a true honor to get to have the farmhouse and the events we host at the farmhouse here on the 200 year old family farm.
This locally made box was born from a dream I had in college...to create goods here locally with locals using local materials to create top quality goods to share with the world. This box is a beautiful sample of that dream.
After last year's tornado it took most of 2022 to get back on our feet. Our studio here at the farm was totally destroyed and had to be rebuilt. This is the first product that feels like we really get to appreciate that return to life and we are excited to share it with you.
Each of these Locally Made boxes includes what is shown in the photos. That is exactly what you will receive. Perfectly packaged and ready to give as a gift or enjoy for yourself.
EACH BOX INCLUDES:
1 Jars Candied Pecans (made here in my hometown of 300)
1 Christie Jones Ray 5x7 Print (lives next door to the candied pecan man)
1 Jar Strawberry Jam (grown here on the farm)
1 Bar Goats Milk Soap (raised, milked, and created by one lady on the other side of the county)
1 Jar Local Honey (harvested here in the county and jarred in a cute glass bottle (spoon included)
1 Locally Made Ornament (these will vary from box to box, but will be an ornament created by hand)
1 Candle (Our Christmas candle poured here at the farm)
_____________________________________________________
My rural Kentucky community appreciates your support!